Most Alfresco users know Francesco Corti. With his cheerful and motivating spirit, the Italian has been supporting and promoting the software community around Alfresco for years. Unlike most software evangelists, he is also quite engaged in another community – Pentaho. I have talked to Francesco about his committment, his talk at Pentaho User Meeting and why human relations are an essential part of a software's success.
Francesco, you are Alfresco Product Evangelist. How come that you're going to speak at another software's user meeting?
My personal interpretation of "being an Evangelist" is simply "being an Enthusiast" on technical topics. Before becoming an Evangelist for Alfresco, I enjoyed writing technical articles for my personal blog at fcorti.com, contributing to forums and attending events. Of course, in parallel with my regular work as Developer/Architect/Project Manager in a software company in Italy, where I live.
I started all the journey in December 2012 because I was looking for something more exciting than using the same technology, in the same way, over and over again only because the company wanted it. My nature as (curious) developer forced me to experiment and try new things around my preferred technologies. And what's better than open source solutions? All the source code is (potentially) in your hands and you don't have relevant limitations on what you can (or cannot) do.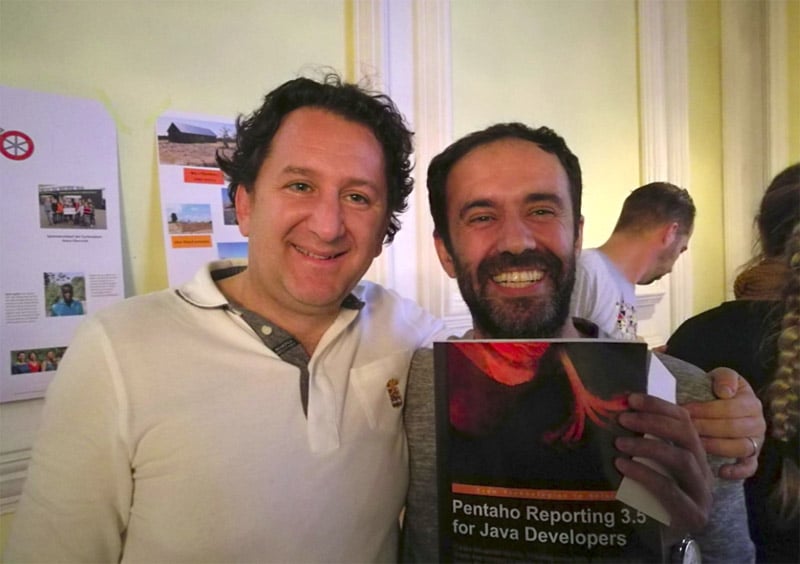 At that time, I was working mainly on content management systems (Alfresco, Hyland OnBase and some other custom projects) and business intelligence systems (SAP Business Objects, Oracle Hyperion and Pentaho). During my experimentations and discovery, I had the idea to integrate Alfresco and Pentaho (starting the A.A.A.R. project, today named Alflytics) and to write original content for my personal blog about both technologies.
What was born as an hobby and a personal interest after some time became an opportunity to be more involved in the two communities, Pentaho and Alfresco. Do you know what really surprised me? The fact that behind a common interest (the technology) I found two nice communities made by friendly and nice guys, always available to have a beer together, enjoy and spend some time sharing personal experiences from all over the world. I think this is really amazing.
Why did you have the idea of the dashboard?
Did I share that I'm curious? In October 2017 I was investigating Angular as modern and widely used frontend framework for developers. It's really impressive how fast it is increasing its popularity, together with React and Vue.js. We can like or dislike it, but Javascript Frameworks are real silver bullets for quick web app development. Last but not least, frontend developers from all over the world are perfectly aware.
While I was studying Angular, I was looking at the solutions to create charts, reporting and dashboards… rapidly. The solutions I found were great but still libraries that require a substantial effort. I cannot blame Angular for this because it is a frontend framework. A framework for easily creating charts, reporting and dashboarding is a completely different thing.
Then I thought: could it be possible to use Pentaho (but I should better say CTools) as framework for BI dashboarding together with Angular as frontend framework? In other words: could it be possible to use Pentaho dashboards (developed using CTools) in a regular Angular application? Today, I know that the answer is 'yes' but by that time it was not clear whether I would be able to make it work in practice. Especially if you consider that at that time I did not find any working solution or discussion, except for a sample project developed directly by the Pentaho team using Angular 1 which is a completely different technology compared with Angular 2 and following.
At the end of the journey, the technical solution I experimented with and developed is available as part of the pentaho-dashboard-project on Github… of course as an open source project.
What benefits do companies have with it?
I usually think of three major advantages in concrete use cases: fast development, re-usability, modern development for modern applications.
Thanks to the release into the public npm repository, the package implementing the solution is available (for free) to all developers as a regular Angular dependency. In addition to this, a complete documentation is available on GitBook, for a step-by-step description of how to use it in practice.
The pentaho-dashboard package enables developers to do fast development because they can develop their own dashboards using the Pentaho CDE and then including them, simply using the following source code:
< pentaho-dashboard id = "dashboard1" pentahoPath = "/public/sample.wcdf">
The pentaho-dashboard package enables a developer to re-use the dashboard because every Pentaho dashboard can be included in every Angular project simply including the package as a regular dependency. Since then, the usage of existing Pentaho dashboards can be done pointing on its path in the Pentaho repository.
The pentaho-dashboard package enables a developer to do modern development for modern applications because Angular Framework is one of the most appealing and modern approaches you can have to develop your own responsive web application.
You're part of both worlds – the Pentaho Community and the Alfresco Community. How do both communities differentiate from each other – or do they not?
Every community is made of people and this is what makes the two communities one same thing and two completely different things at the same time. Communities are different because the people inside the communities are different. As I said before, this "human nature" of the communities is what I like most and what make the communities healthy and engaged.
What I learnt during my work for Alfresco is that the companies behind an open source project have a primary influence in engaging (and increasing) the communities but that the excitement and the "positive vibrations" are something that only the members can share with each other.
A practical example of this? For the one of you who attended the Pentaho Community Meeting 2017 in Mainz, you know that it wouldn´t have been possible to organize the biggest Pentaho community event without Pentaho and it-novum. Even if this is true, you couldn´t define it as the biggest and most exciting Pentaho Community Meeting without the hundreds of developers and enthusiasts that came to share their contributions and positive vibrations.
On the Alfresco side, in January 2018 we had the Alfresco Developer Conference in Lisbon with three hundred people in a great venue. After the event, developers that had attended an Alfresco event for the first time, told me: I'm impressed by the level of excitement and engagement of the enthusiasts from inside and outside the company.
Technology is what we like and need for our business but it is human relations that make us happy in all the things that we are working on.
You might also like these articles: